Living a Fearless Life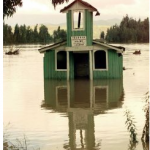 Once there was a man whose house was in a flood. He stood on the porch as the waters rose. A boat came by, the driver urged the man to get on board but the man said he knew God has a purpose for him, and was waiting on the Lord to save him. The waters rose, the first floor was flooded and as the man looked out his second story window, another boat came to rescue him. The man turned the boat away, saying he knew God had a purpose for him and  would wait for God to rescue him. Finally he was clinging to the chimney on the roof. A helicopter flew overhead and dropped down a ladder. The man waved it off, saying Jesus would save his life. Finally he was swept away in the waters and drowned. At the pearly gates, he saw God and said, Lord, all my life I lived with purpose, doing as you asked, but when the time came you did not save me. And God said, "I sent you two boats and a helicopter, what else did you want?"
Achieve Stillness in your Daily Living
So, why am I relating this classic joke to you in a blog about finding stillness and balance in your life? As you run through your busy day, holding on to your iPhone which you cannot allow to get more than a foot away from you, think of meeting your Maker like this:
"What's with the heart attack?" I demand.
"What did you want from me?" He replies. "I sent you yoga, Buddhism, Shakespeare, dolphins, mindful meditation, Brahms, Monet, roses, sunsets…[He talks for a really long time]…and even that Certified Professional Life Coach!"
It's pretty obvious that knowing what's good for us isn't terribly helpful. Ever meet an alcoholic that didn't know he needed to quit drinking? A sixty-hour-a-week businessman or woman who didn't, at a very intimate level, know that each evening ended in a sunset–and that the cost of missing those sunsets, night after night, was going to be very, very dear? No one ever ended up on their death bed saying, "I wish I spent more time at the office."
Repetition is the Mother of Learning
I feel like I should be writing just one very short blog, and posting it over and over: "You remember all those things we've already said? Do that." Try as you might, no matter how fast you go, or how much you multi-task, you are not going to be able to read everything, absorb everything, figure everything (or anything) out. Instead, just try slowing down enough to be able to hear that voice calling to you through the megaphone from above.
Think of abundance as a car engine.  You put the car in first gear to get started.  If you stay in
first gear, and try to go faster, the engine goes faster and faster, but the car really doesn't gain much speed.  Switch to second gear and the engine slows down, allowing the car to go faster.  Third gear – the engine works even slower, and the car goes even faster.  It's the same with your mind.  Slow down your thinking to go faster towards your goal of more abundance in your life.  Find purpose in life; be mindful of what you think about, and whether you call it meditation, or prayer, or reflection – take the time to slow down your mind, to achieve your goals through purposeful thoughts which will lead to living your purpose.
(with thanks to Psychology Today magazine for the inspiration)